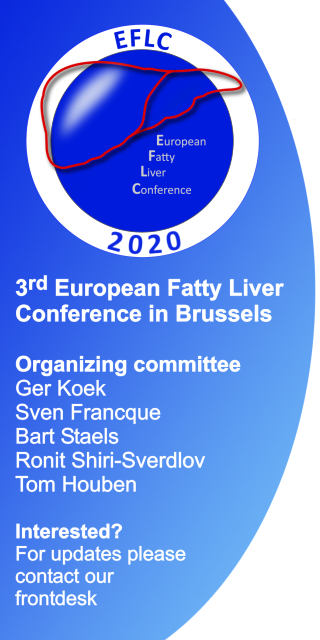 Welcome

We are looking forward to welcoming scientists, clinicians, patient societies, nurse practitioners, health care policy makers and members of the food and pharmaceutical industries to join the 3rd European Fatty Liver Conference (EFLC 2020), which will take place from June 10-12 in Brussels, Belgium.

NAFLD, from basic science to a multidisciplinary clinical approach
Non-alcoholic fatty liver disease (NAFLD) impacts not only the liver, but plays also an important role in the genesis and progression of cardiometabolic diseases, diabetes and cancer. As a consequence of the Western lifestyle, over 50% of the population is overweight or obese. When progressing to Non-alcoholic steatohepatitis (NASH), this foie gras humain is responsible for increasing health care costs and decrease in quality of life.

Conference topics: Basic science mechanisms of steatosis, inflammation, fibrosis and carcinogenesis and the clinical aspects including drug therapy and nutritional approach.

Multidisciplinarity: as the spectrum of NAFLD comprises hepatic and extrahepatic manifestations, our mission is to gather researchers, clinicians and stakeholders in these fields by organizing parallel meetings about these specific topics with experts in the fields.

The International NASH Awareness Day June 12th will be the main topic on Friday with patient societies and policy makers joining the experts in the field.

Feel free to spread the word to your colleagues and invite them to join the 3rd EFLC 2020!